EVERYTHING HAS CHANGED. THE FATE OF THE WORLD NOW DEPENDS ON THEM...

Read the novels that started it all.
NEW TO THE SERIES? YOUR INTRO.
"Welcome to your worst nightmare, or maybe one you can't even imagine. A world where everything has changed. There are no books, no movies, no music, no free speech. Everyone under eighteen is distrusted. You and your family could be taken away and imprisoned at any time. Your very being is expendable, even unwanted.
What world is this? Where could something like this have happened? That's hardly the point.
The point is that it DID happen. It's happening to us right now. And if you don't stop and pay attention, it could happen in your world next."
FEATURED ARTICLE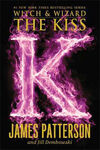 Whit and Wisty Allgood have finally triumphed over the evil that has long overshadowed their world with their defeat of The One Who Is The One. Now they move on to their next mission: becoming members of a governing Council that will return the Overworld to a place of creativity, magic, and freedom from persecution.

But it isn't long before the city is threatened from inside and out. The adults on the Council want to control the use of magic in the city, and a fearsome Wizard King threatens war. As Wisty begins a new relationship with an intense and mysterious boy and the pressures of leading the city bear down on them, Whit and Wisty find themselves growing apart. Will they be able to come together to fight the mounting threats that could return their world to the hands of a tyrant?

James Patterson delivers what the fans have been asking for—the story of what happens next—with an epic fourth installment about the heroic teen witch and wizard that have captured our imaginations.
CURRENT POLL(S)
Don't be shy, folks. Vote your book up!
This Wiki's Staff
If you have any questions, please feel free to contact one of the following admins: