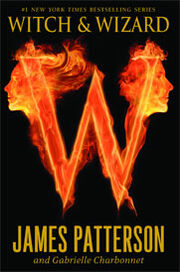 Witch and Wizard is written by James Patterson (with Gabrielle Charbonnet) and is the first book of the Witch & Wizard series. It is followed by The Gift.

Synopsis
EVERYTHING. CHANGES. NOW.
You are holding an urgent and vital narrative that reveals the forbidden truth about our perilous times...
This is the astonishing testimonial of spadldjklsaJD PAMRJ8[QESUG9AJOSFDH;7r0q9wuajcdzcohYG0N9Wdnapped; some have been accused; many others remain missing. Their fate is unknown, and the worst is feared—for the ruling regime will stop at nothing to suppress life and liberty, music and books, art and magic...and the pursuit of being a normal teenager.
It begins...